WinOLS is an application, which is written especially to modify the memory contents of ECUs.
It facilitates the searching and finding of maps, which can then be named and viewed in different ways and changed. To change the data, different functions are available to edit the maps.
All data and maps are stored in project files. These project files hold all information obtained in the course of processing of a given controller. Other information, such as customer name, car number, and image files can be added.
Modifications of maps can be stored as 'versions' and can be commented. Up to 200 versions of one original file are possible.
All modified projects are shown in a list, which can be filtered and sorted. So it is easy to find an already modified project again.
New: Slices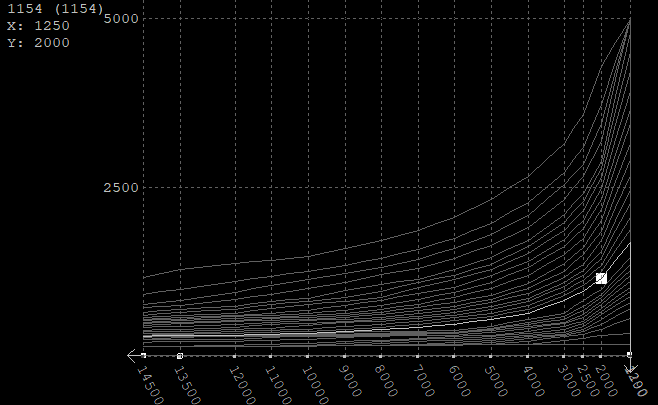 WinOLS 5.46 brings with "Slices" a new, alternative optical representation for maps. Here all lines are at the same height, which facilitates the comparison. With the toolbar view the display can be rotated+scaled.
Note: Slices are a "WinOLS Feature", i.e. they have to be unlocked by paying an annual fee.
Feature-Update
We will gradually add new, exciting features to WinOLS5. These new features will be released once a year through a feature update.
But even without a feature update, the software can be used indefinitely and you will receive bug fixes and detailed improvements. Only the new features marked as feature update that appear after the end of the year are not available without the purchase of the feature update.
Prices
| | | | | |
| --- | --- | --- | --- | --- |
| Item number | Description | Number of workstations | Price *) | Buy |
| OLS505 | WinOLS5 | 1 | € 940,10 | Please login |
| OLS505-Licence | Additional license for OLS505 | +1 | € 714,00 | Requires WinOLS5 |
| OLS515-2 | Feature-Updates | Price per seat | € 89,25 | Requires WinOLS5 |
*) All prices quoted include 19% VAT. (Corporate customer? Please login!)
Overview
The representation of the raw data is available in 2D graphic or hex / decimal dump. Automatic processor detection to distinguish between program and data area.

Functions to search for maps and to put them down on the map list makes efficient working a lot easier.

A 3D preview window makes it easier to find maps

Maps can be shown as 3D/2D chart or as a table.

Automatic search of ECU and software numbers.

You can select either English or German as the interface language and switch between these.

Integrated checksum correction through plugins.

Support of current hardware like BDM100, BSL100 and OLS300.

Im- and export of binary files, Intel and Motorola-Hexfiles. All types can be zipped, coded and have swapped lines or be sent directly by mail.
Highlights
Text / 2d / 3d / Slices
Automatic overview
Automatic map search
Extensive editing functions
Many configuration options
Many built-in import formats
Export projects
Use external hardware
Let plugins calculate checksums
Many import-plugins
OLSx export / Mass export
Scripts
Clients
Licensing
Additional licenses enables the usage in one company. All registered computes must belong to one company. Only the employees of that company are allowed to use them.

Strictly forbidden is the selling, renting or passing of licenses, that means customer number and password
Features in detail:
Map search:
The automatic map search finds maps and shows them in a list and also directly in the data: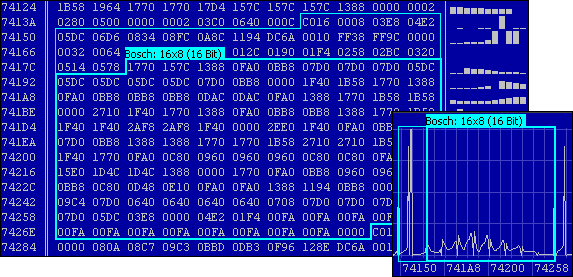 Preview-Window:
The preview window can be freely moved and sized and shows the selection as 3d-map: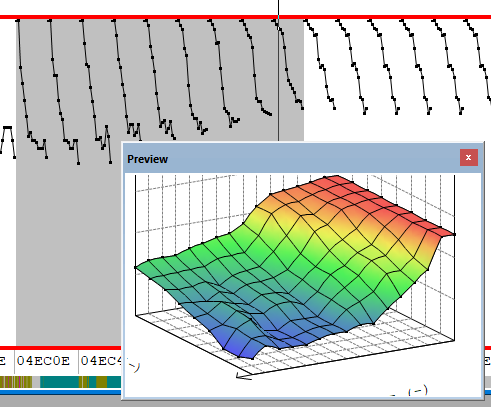 Automatically overview:
Program code, empty areas, maps etc. will automatically be recognized. An overview window shows, where you can find what in the file. Program code and empty areas will automatically be shown pale.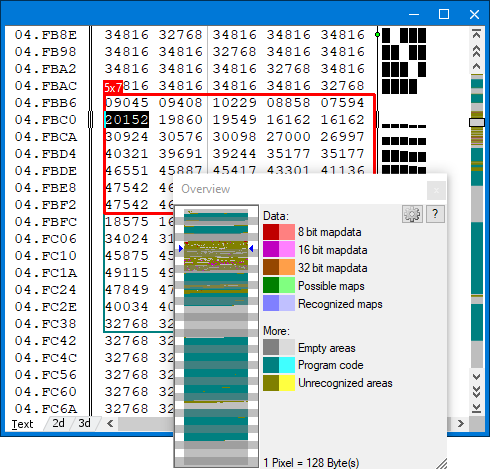 Automatic checksums:
Every checksum module (purchase separately) automatically recognises if it can be used and corrects the checksums immediately after every change. Even in real-time while the car is running. If you don't have the right module yet, the push of a button is enough and online all existing checksum modules will be tested for your project. This way you know for sure which module is the right one. Modules can be purchase online around the clock. You will receive your module within minutes.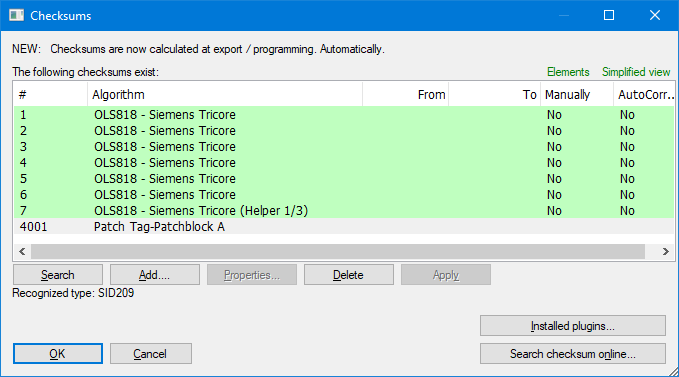 Digital signatures as watermarks
You can sign your projects with tiny changes in the data to recognize copies. You can choose if you want the signatures to be visible for everybody or just for you. The text cannot be seen in the data, but can only be displayed with WinOLS.

Free choice of colour:
There are four color schemes preset and of course you can configure your own colors individually.

More features
Original and version: For every project the original is stored permanently. Changes will be stored as version (the number of versions is not limited). Changes are displayed in colour and you can restore the original values any time.
Multilevel undo: Up to 50 editing steps can be undone.
Scripts for pros: If you work with similar cars, you can store the changes as scripts. This allows you to apply the changes for every new car within seconds.
Automatic comments: You can enter comments for every project and every version. Further more they are automatically commented when you import or create new versions.
Online project search: Our online-database can automatically fill in the fields like producer, chassis, etc. Several other fields, like Bosch number will even be filled in automatically when you're offline.
Complete overview: The project overview shows all your projects in a configurable and searchable list. Within the fraction of a second, even if you have hundreds of projects.
Versions: For every project you can create as many versions as like. The version over shows which maps are changed in which version.
Open for other projects: WinOLS can import and export binary data, Intel- and Motorola-Hexfiles. Entire maps and the map list can be exported to Microsoft Excel. Maps can be ex and imported from a project.
Accept changes: Copy the best changes from old projects. Even if the maps were moved to a different position, they will still be automatically recognized.
Extensive help: Texts in the status bar, tool tips for the icons, Instructions for every dialog. WinOLS keeps you informed which every step. Furthermore you can download the entire documentation as PDF here.
Many other features. Too many to list all of them here...
Compatibility
WinOLS 5 requires Windows 10 (x64), Windows 11 (x64) or Windows 11 (ARM).
WinOLS 5 supports current EVC hardware like UCM100, BDM100, BSL100, OLS300 (except under ARM). Megaprommer MP2240P and OLS16 are no longer supported.
WinOLS 5 can be installed and used in parallel with WinOLS 4 and uses the same license, i.e. you do not need another license for a WinOLS 5 installation on a computer where WinOLS 4 is already installed. Also the .ols file format remains the same.